The Feslers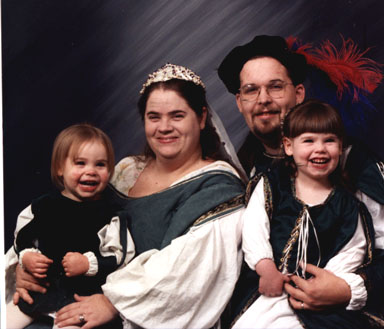 Yes, it's true! I do have a family, thanks to the help of my loving wife Danaë. The photo below is with us wearing SCA garb (SCA, The Society for Creative Anachronism, is a place where we go to do historical recreations of the medieval ages). That image is from somewhere around 1997.
Jason works at Yahoo!, and can be reached as jfesler@gigo.com.
Danaë runs the local SCA goldenrivers.org web site and can be reached as hobbit@gigo.com . For the curious, you may also find these SCA links useful: cynagua.org, westkingdom.org, www.sca.org.
The kids are much older than this picture appears. However, their email addresses are not published. Contact one of us if you have a legitimate reason to request their address.