Corbin motorcycle seat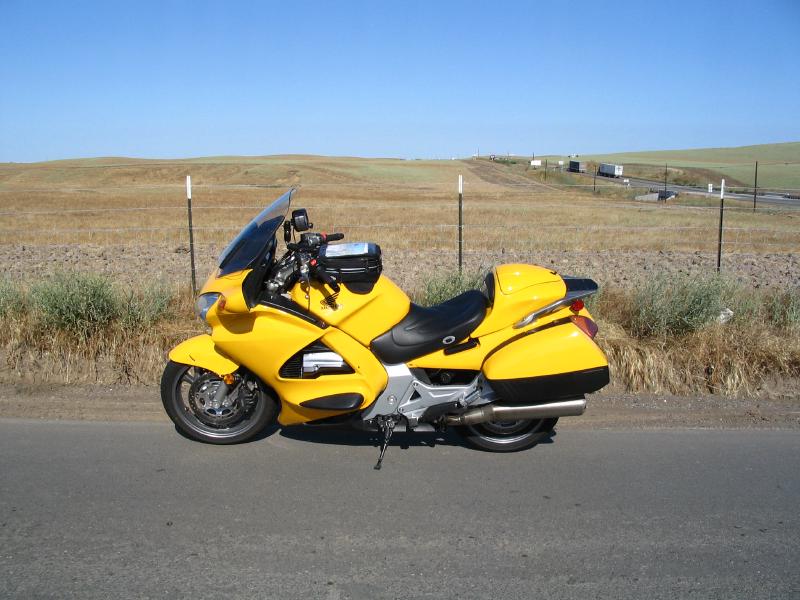 http://gallery.gigo.com/st1300/
I had the opportunity to make a slight detour, and visit the Corbin facilities in Hollister, CA. I had them make the front seat that goes with the Smuggler's trunk. For the heated seat alone, $300 (and no Honda pan required) seemed like a good gamble.
(updated 06/20/05 - added info about the Smuggler's Trunk)
The Seat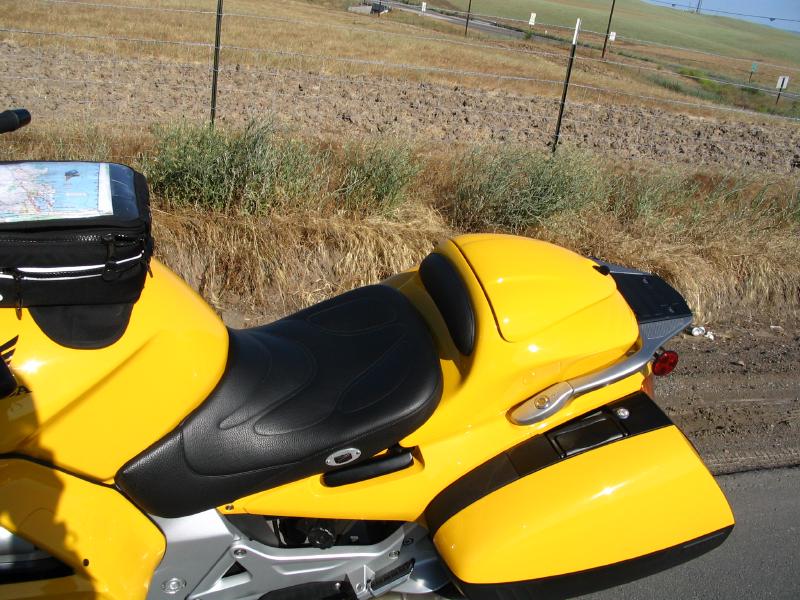 I had a Thursday morning appointment with only a week's notice; my trip southword was not the most well planned. They said they'd take me in. At the time, I asked about the trunk, and it was only available in stock Honda colors. As some people know, my ST1300 is a serious shade of yellow, not unlike that of recent yellow 'wings.
When Thursday arrived, they had me handled pretty quickly. The put on an unfinished saddle that was mostly stock, and had me ride it. I decided that it was too much seat on the rear of my rear. After consulting with them, that wasn't the problem - the problem was my heavy fat ass was hitting into the pan; and the solution was to add _more_ foam. Right they were! They advised against trimming the leg area, unless I *needed* it. I decided to leave the leg area stock, as I still had adequate control of the bike at a stop (I did lose the ability to flat-foot).
This seat, is an absolute joy. I was getting butt burn on the stock seat on a 2h trip. I spent 3 days putting on 1000 miles, average day being around 7-8h. (Yes, those were slow miles.. and worth every minute of it, much of it along the PCH). I did stop every hour or two, but not for any length of time. Butt burn was never an issue with the new saddle. I can't comment on how well it'd hold up in an attempt for an iron butt - I know I myself could never do it, but I think my ass would on that seat.
People have expressed concern over Corbin's mail order and resale practices; and I think the general consensus has been if you can visit in person for a ride in fitting, to do so. Count me among that group advocating the trip to Hollister.
People have mentioned that the seats are .. "snug". No different on my seat. The seat requires some tapping, er, thumping, to get it into place. Since this was done as a ride in, I got to see that it did indeed fit, and just how much force (no worse than my other bikes) it took. They also handled connecting the seat heater, using a tap off the accesories fuse in the fuse box.
The seat heater works well. Heated seat and grips, meant my summer gear was warm enough for low 50's weather. Previously, I could only go to mid 60's with my lighter gear.
Corbin seats _are_ firm. Corbin admits and advocates it. My first 1000 miles, agrees.
---
Smuggler's Trunk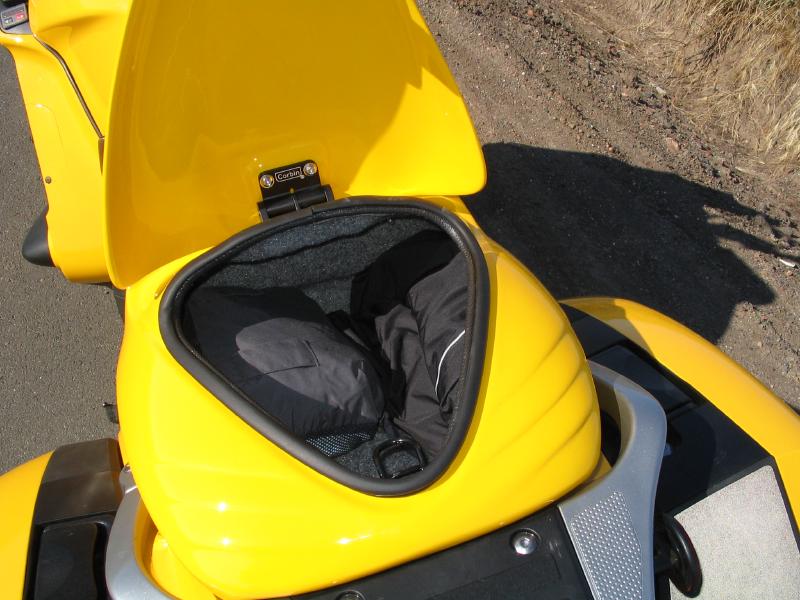 Smuggler's trunk: Must have been a mix-up. The paint guy at the shop said he could and would color match it to my bike. "Sold!". Honestly, I was ready to buy it as gloss black. I had it shipped after it dried, as it was going to take a day for that. According to my wife, the color match is good. I'll see it for myself this weekend, as well as see how it fits.
Update: I have this now; you can see the photo above. Click the photo to go to the gallery album that shows closeups, if you are interested.
The color match was pretty darn good. Not perfect, but you have to look hard, to notice it is off. I'm impressed.
Space: I can keep my rain paints and jacket (jogging gear - very lightweight and compact), 3 sets of gloves, glove liners, and I still have a bit of room left over. Probably enough for a standard non-SLR camera bag, or a drink if I don't take my tank bag with me. The unit is not keyed to match the honda; so I am only going to keep non-valuable gear in it. It does free up space from the sidebags.
Installation: suck. I mean, suck. Getting that thing on and off is a serious challenge. IF the metal tongues could be bent down a bit, it would be a ton easier. I don't want to force them down, since they are attached to the fiberglass - the tongues are very think metal. I did resort to trying to file one side down a bit, to help it catch the loop. This makes me less likely to casually take the trunk on and off.
Overall: I'm happy I got this.
---
Other details
Wizards's Cafe: Yes, they do have a diner on site. I had a chili dog (what could POSSIBLY go wrong?), and it was as was expected. Suprisingly, chips and salsa were served - but 99% of the clientelle were the workers at the Corbin shop, which explains that. Nice folks, and the cafe is quieter.
If you like noise, you can sit a few feet from your bike, and help with supervision.
Take the tour, check out the shop. Gabrielle showed me some of the employees only area, as I wanted to double check that the paint guy was all good, before I left with the bike. Holy moly, that's a big shop. He said their goal is to build 350 seats a day, year round, with the winter months stocking up inventory, and the spring/summer consuming it.
4 people were there on the day I went getting custom seats. One was adjusting their previously made seat - apparently it wasn't quite right for them, but they knew what they wanted changed, and Corbin seemed more than happy to take care of them. Another was changing out the seat on an Aprila ST-type bike. The last, was a custom made cruister, who had no seat template at all, that they were making from scratch.
Mike Corbin walked by a few times, and asked if everyone was ok. He doesn't seem to be too involved in day to day building of seats. I didn't ask about the status of his legal issues involving the electic car business ( http://www.sparrowelectriccars.com/ ; http://en.wikipedia.org/wiki/Corbin_Sparrow )